Stir-Crazy & Staycationing: Floridians Keep Treasure Coast Hotels Booked
Obviously, the pandemic is affecting the way people travel and vacation. We wondered how our local hotels have been dealing with the situation.
SC: All of our hotels from Vero to Jupiter have been selling out on the weekends.
This is Steve Crist.
SC: I'm the regional director of sales for Ocean Properties on the Treasure Coast.
He's in Jupiter and we're speaking by phone.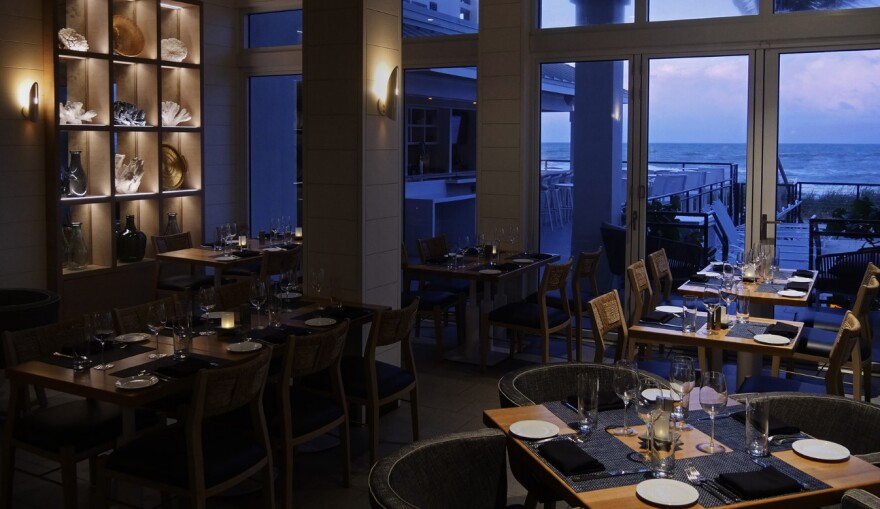 SC: There's 4 in our Treasure Coast collection.
They own the Jupiter Beach Resort, the Hutchinson Shores Resort and Spa, the Marriott Courtyard just north of Jensen Beach and the Holiday Inn Vero Beach. When the pandemic started, they had to shut down and try to reschedule a load of weddings and conferences. Then, Florida began to re-open.
SC: People, I think, were starting to get stir crazy and what's happened, a complete turnaround: we're coming off a really strong August in all four of those hotels and a really strong September, and normally September is our one month that we have a struggle with.
He says people are coming from around the Treasure Coast and from South Florida.
SC: And, you know, we kind of watch the zip codes. We get a lot of people coming from South Florida, but a lot of weekend stays from just within the counties.
A short walk south from their Holiday Inn Vero Beach on Ocean Drive is an independent resort, Costa d'Este Beach Resort and Spa. Its owners are famous South Floridians, Gloria and Emilio Estefan.
(a few seconds of "Conga" from Gloria Estefan and the Miami Sound Machine)
We walk past the water feature at the front entrance and into the very chic and chilled-back, international-feeling lobby. Traffic is pretty steady.
FRONT DESK: Hi, how can I help you?
Everyone wears a mask and there's new protective plexiglass at the front desk. It's very open and spacious. We slip into a sleek corner table appropriately distanced in the Waves bar. There is relaxing purple lighting. We're here to meet…
CO: Chad Olson and I'm the managing director. Costa d'Este Beach Resort and Spa.
He says this time of year, they usually do see Floridians.
CO: What we have seen is just more of them. And we have a lot more first-time guests than we ever had had. Our numbers on food and beverage sales have been higher than ever. So, what I think it is says is people have a desire to get out and travel right now. They want to get out of their house they want to do it safely.
We ask about their experience when the pandemic first hit.
CO: It was one of the toughest things. To have to depart from your staff that quickly and that abruptly was, was, painful. But we started bringing back our staff in stages, so at this point we are probably back to 90 to 95% of our staff back with us.
They did use the downtime wisely to renovate the restaurant and lobby.
CO: Something we had planned to do for quite some time and could just never find the ideal time to do it.
The new flooring literally sparkles.
TOC: I wonder if Gloria picked the (flooring)!
CO: Gloria did not, but Emilio did. This was important to him and we actually chose this, gosh, almost about a year ago. And it was custom made, and we sat on it for a while and just tried to identify and plan that right time. We had just closed the doors and Emilio called me and said let's get it done.
(a few seconds of "Conga" from Gloria Estefan and the Miami Sound Machine)
Here's Steve Crist again, at the Jupiter Beach Resort.
SC: And what's picked up in the last 60 days is short-term weddings. Now people have decided that yes, we still want to get married but there's only 20 or 40 of us. So the smaller short-term wedding business has turned itself on.
He gives big praise to all our Treasure Coast Chambers of Commerce for their digital advertising response to COVID.
SC: This is where they're needed the most. All of a sudden there's a dip in the economy or something like COVID, we're all relying on them to get the word out there – or at least let people know that we're open.
Learn more here:
https://www.jupiterbeachresort.com/
https://www.hutchinsonshores.com/
https://www.ihg.com/holidayinn/hotels/us/en/vero-beach/vrboc/hoteldetail
https://www.marriott.com/hotels/travel/jench-courtyard-hutchinson-island-oceanside-jensen-beach/
https://www.dropbox.com/s/8ft90vovhtccz28/Jupiter_Fullversion_Review_082620_2.mp4?dl=0